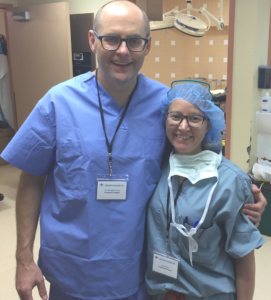 He was up walking the same day of surgery and was so happy he even danced a little!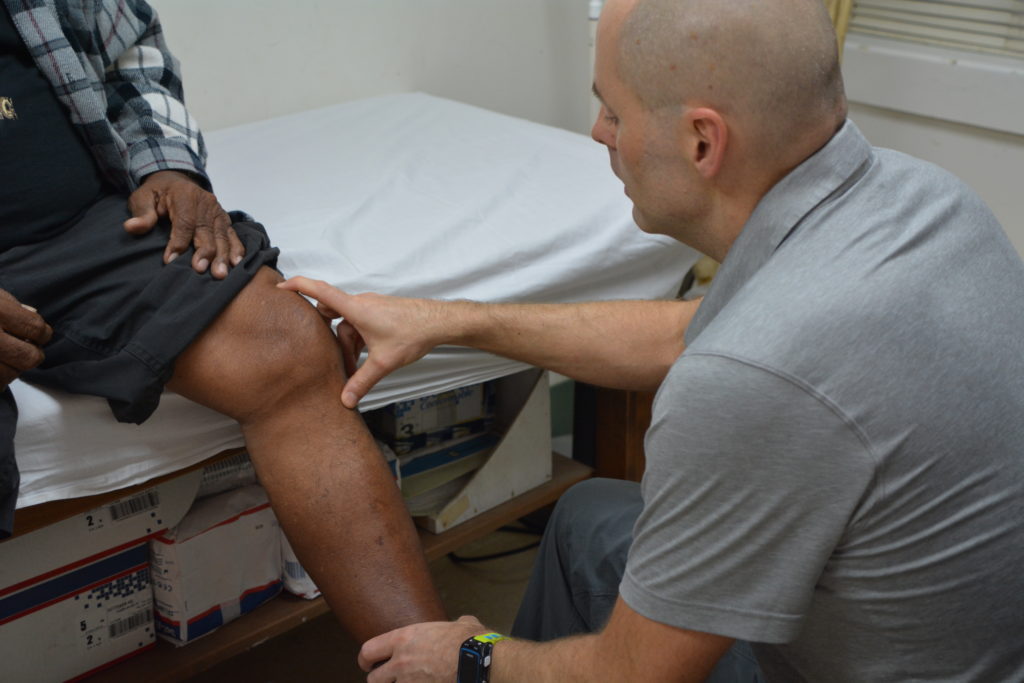 Many Hands Helped Titus Walk Again
Emily Crow, a Physician's Assistant, and her husband Bradley Crow, an Orthopedic Surgeon, joined us on a recent trip to Palau. Titus was one of their knee replacements cases.
Titus was one of the first patients who walked through the doors of the clinic—he needed a crutch to walk. He suffered a bowing of his left leg from advanced arthritis known as a varus deformity. His right leg had problems as well. Unfortunately, his case was so severe it required specialized implants to address his problem.
Titus had been waiting for years for new knees, so helping him was one of our top priorities. But unfortunately, we didn't bring the specialized parts. An urgent request went out to Zimmer Biomet, the manufacturer of the implants. When they heard the need, they air freighted the implants—free of charge – and got them to Palau on the last day of surgery. That's about $60,000 of metal knees—not counting the cost of surgery. And it was all FREE. It always is with Canvasback Missions.
We were ecstatic to tell Titus that we were going to be able to perform the surgery he had been waiting for!
He was up walking the same day of surgery and was so happy he even danced a little!
According to Emily and Dr. Brad, "So many more patients in Palau would benefit from our care. The work during our trip was hard but could not have been more rewarding. We were fortunate to work with such a great team of volunteers and such a dedicated organization. We look forward to another trip with Canvasback Missions in the future!"
Koror, Republic of Palau and
Majuro, Marshall Islands
Two Teams sent out in 2019
Orthopedic teams can be our most equipment and supply intensive outreach, but the results we see are well worth the extra care and planning that goes into each of our teams. This year, Canvasback planned two ortho teams to Majuro in the Marshall Islands and Koror in the Republic of Palau providing over $1.6 million in care! That dollar amount translates into people being able to walk again, to dance with their families, and enjoy the fullness of life.
Over the last few years, Canvasback has been working to improve our ability to provide these kinds of procedures and we could not do it without amazing volunteers who provide incredible expertise and the partnership with generous companies like Zimmer Biomet who donated the implants, De Puy Synthes and Bioventus who donated the visco-elastic supplementation, Providence St. Mary's Hospital, WA, Wilcox Memorial Hospital, Hawaii, and John Muir Hospital, California loaned and donated supplies, and Matson Navigation and Garden Isle Couriers donated the loading and shipping of all the equipment. We couldn't do it without you!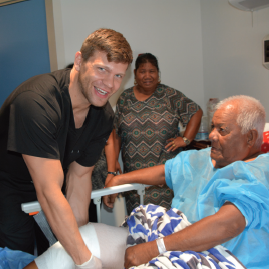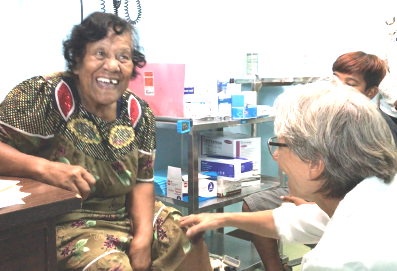 You can give a helping hand too.