Canvasback strives to fulfill its mission with excellence, accountability, and transparency.
As a nonprofit, Canvasback relies on the generous donations of individuals and communities, companies, Micronesian governments and recognizes financial responsibility as one of its top priorities. Please explore our Supporting Partners, Financials and Reporting, Executive Summaries, Awards and Ratings. If you have any questions, please contact us.
We wish to thank the following companies, medical professionals, and government organizations who help to keep the ministry afloat with millions of dollars of support in medical supplies, grants transportation needs, and volunteers.
Alcon Medical Missions Program
AmeriCares Foundation
Bioventus
DePuy Synthes Mitek Sports Medicine
Integrative Foot and Ankle Center
Johnson & Johnson
Kaiser Permanente
Kaua'i Medical Clinic
Medical Device Business Services
MedShare

Pacific Cataract and Laser Institute

Providence St. Mary Medical Center
SEE International, Inc.
Wilcox Memorial Hospital
Zimmer Biomet
Allstate Insurance
Matson Navigation Company, Inc.
Triple J Enterprises
4 Atoll 177 Healthcare Program
Asian Pacific Community Health Organizations
Federated States Of Micronesia
Government of the Marshall Islands (RMI)
NCD Coalition
Pacific Community (SPC)
Pohnpei State Government
Republic of Palau
World Diabetes Foundation
World Health Organization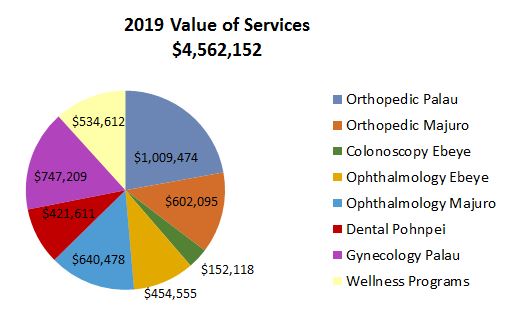 2021 Audit Report - In Process