Messages From Wellness Center
Comments from Tanner Smith, Co-director
Imagine you are speeding down the road as fast as you can go but unknowingly, you are heading straight for a cliff. At what point would you want someone to warn you? When would you want to start slowing down or changing directions? Early on right? Not just before you leap off!
At the Canvasback Wellness Center, we take the same approach to health. We warn people well before they reach that cliff. In the case of the Marshall Islands, that cliff is diabetes. Each year we see more and more people become diabetic. This is why we are focusing on an "early warning" approach.
Read more about it, download the magazine.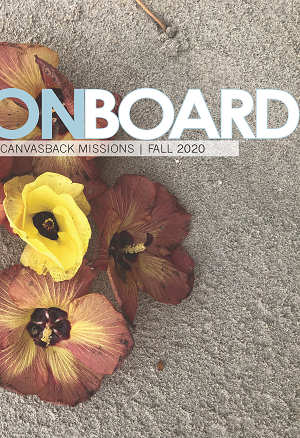 President's Message - Jamie Spence
Few people ever get to travel to the Micronesian Islands. Even fewer see the remote atolls with their many tiny islands that don't even appear on most maps. In the early days of Canvasback, we built our sailing catamaran to meet the people of those islands and bring medical care unlike anything they had seen before. It's been years since I've been back to the outer-islands, but I think about them often. I know the salt breeze full of the smell of ripe breadfruit, but what I remember most are the smiles of the people we helped, children and mothers with babies in their arms, as they waved to us from the beaches. And I remember watching the dedication of our volunteers as they worked tirelessly under the unforgiving tropical sun.
In this edition of OnBoard, you'll see the legacy of that work continued. Our volunteers work as hard as ever and leave smiles wherever they go. And I'm glad to say, our Wellness Center staff has returned to the outer-islands with a message of health. These are very special stories and I am so grateful to all the volunteers and donors who have made them possible!
READ A SAMPLE OF THE STORIES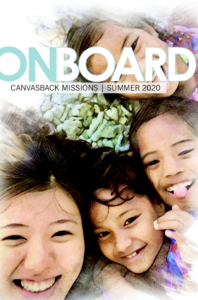 In the mission field, every opportunity brings new challenges. This year was no exception, but with the help of our incredible Super Teams, support from people like you, and God's guidance we were able to do work that we've never done before. With your help, we changed lives! In the following pages, you will see the amazing accomplishments of 2019. Read more about them by following the links below.
Ophthalmology on Ebeye and Majuro Islands
Colonoscopy on Ebeye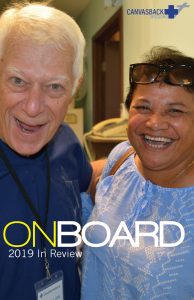 This special edition of our OnBoard Magazine is going to tell you some of the stories of our work and give you a broader look at what Canvasback has been called to do. You might be a long-time supporter of the mission or this might be the first time you have heard about us. If you are already a partner in Canvasback's work, I just want to say thank you for your dedication to the people of Micronesia. If you haven't been a part of the mission, we would love to work with you. Either way, I hope they make you feel a little bit of the warmth and joy we have been lucky to find in Micronesia.