In the mission field, every opportunity brings new challenges. This year was no exception, but with the help of our incredible Super Teams, support from people like you, and God's guidance we were able to do work that we've never done before. With your help, we changed lives! In the following pages, you will see the amazing accomplishments of 2019. Read more about them by following the links below.
Ophthalmology on Ebeye and Majuro Islands
Colonoscopy on Ebeye
Orthopedic on Palau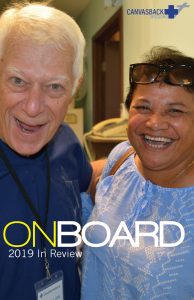 This special edition of our OnBoard Magazine is going to tell you some of the stories of our work and give you a broader look at what Canvasback has been called to do. You might be a long-time supporter of the mission or this might be the first time you have heard about us. If you are already a partner in Canvasback's work, I just want to say thank you for your dedication to the people of Micronesia. If you haven't been a part of the mission, we would love to work with you. Either way, I hope they make you feel a little bit of the warmth and joy we have been lucky to find in Micronesia.